This probably isn't the first blog post you've read about getting more followers on Poshmark.
You're jumping around results on Google, looking for something that's going to really turn your Poshmark closet into a side-business.
They're pretty much all the same. Share a lot. Follow a lot. Get involved. Etc.
I'm not here to waste your time. I'm here to show you how to get explosive results. Incredibly fast.
I don't share these secrets with everyone. But the people who take it and run with it see crazy numbers. Like, 6000 new followers in a week:

Or, up to 1800 followers in a single day:

If that's something you're interested in, keep reading!
How to get more followers on Poshmark
In short, the best ways to get more followers on Poshmark are:
Below, I'll explain exactly how to do each of these actions so you can grow your following on Poshmark.
I'll also cover:
Sharing is the key
I'm sure all of the other blogs told you that too.
Here's what they didn't tell you - you have to share other people's items. A lot.
Sharing your own items is great, and it's a good way to make sales (which is ultimately what you want). But, if you want followers, you have to help other people out.
People aren't just going to magically show up at your closet and follow you. Well, at least not real people. You might get some fake profiles or spammers.
In order to get someone's attention, you have to do something for them. Sharing someone's items is the best way to get their attention.
If the person is an average, typical posher, they'll have their notifications enabled. That means, if you share their item(s), they get a notification on their phone.
That's pretty cool. Now you've got their attention.
But, is that person ready to follow you? I'm not sure. They might be doing something else at the time. Sleeping, eating, binge-watching Netflix.
You want to get their attention at the right time, when they are ready to pay attention to you.
That time, is during a party.
Here's the best way to get new followers 👇
Share other people's items from the party feed, while the party is going on.
That's it!
Here's what happens - not only will people follow you back, but they'll go to your closet and share your items as well.
So, not only do you get more followers, but your items are being exposed to a larger audience. You have a better chance of making sales.
How much should you share? Well, it depends on how many followers you want. If you want a few followers, share a few items.
If you want thousands of followers, you're going to need to share thousands of items.
All you need to do is share the items in the feed, and then refresh the page to get new items. Over and over again. It's a lot of work.
Luckily, there's a way to automate that (yes, there's a way you can share every item in the feed by clicking one button) using Closet Tools.
It's an app that helps you save time while you get more followers and make more sales on Poshmark.
Okay. Now that we've covered the best way to get more followers on Poshmark, I'll show you some more ways to increase your results.
Following other closets
Following is the second best way to get more followers on Poshmark.
The reason I recommend it, is because there's a limit to the number of items you can share in a day (somewhere around 10000).
So, once you're done sharing other people's items, you can switch over to following people and get another 10000 chances or so to get some people's attention.
I wouldn't just follow anyone - there's a little bit of strategy to this.
I would go to a large closet that's similar to the brands and style that you're trying to sell in your own closet.
I would go to their "Followers" list. Then, I would go down one by one and follow everyone (until you run out of time or your thumbs get sore).
Poshmark Follow Bot
Closet Tools is the best Poshmark Follow Bot. It not only allows you to automatically follow a closet's followers, it also allows you to follow new closets automatically (helping you get in front of new customers).
Why do people follow you on Poshmark?
People follow other people on Poshmark for two reasons.
They are interested in following you because they want to know if you list any new items.
They are trying to grow their own audience, and they're hoping that you follow them back.
If you're trying to grow your following on Poshmark, you can expect roughly a quarter to a third of people you follow to follow you back.
Poshmark Follow Limit
Like sharing, listing, and other functions on Poshmark, Poshmark has a follow limit. The limit for following other users on Poshmark is roughly 10,000 per day. Once you hit the limit, you will be blocked from following closets for some amount of time (usually anywhere from a couple of hours to 12 hours).
Returning Shares
Poshmark is a platform of resellers supporting other resellers. People go out of their way to help others, and they get helped in return.
Another great way to gain new followers is by returning shares.
Returning shares is a way of returning the favor. If someone shares some of your items to their audience, it helps give your items a better chance of selling (or at least getting a like, which can lead to a sale). So, if you share their items to your audience, it helps them out as well. Win win.
To return shares, you'd need to go into the user's closet and share a few items manually.
Or, you can use Closet Tools's full automation - which can automatically return shares a few seconds after someone share's your items. Full Automation can do other things too, like automatically offer to new likers in seconds, automatically follow users back, etc.
Sharing is caring!
Becoming a Posh Ambassador (Suggested User)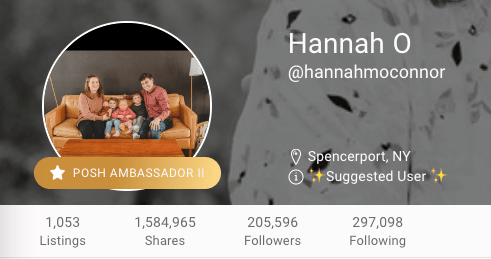 The main advantage of becoming a Posh Ambassador (it used to be "Suggested User"), is because Poshmark will literally throw followers at you.
Not only will they throw followers at you, they'll throw targeted followers your way.
Think about when you signed up for Poshmark. You told them what brands you're interested in, and the sizes and styles you liked.
Then, magically, you're following over 1000 people and your feed is filled with items you would want to buy.
It's not a secret that Poshmark wants new users to buy items. And it would be a shame for you to miss out on the opportunity to be one of the 1000 people new users get to follow.
One of the benefits of the Posh Ambassador program is randomly being selected to get hundreds of followers (new users on the platform).
This can happen every few days, and is one of the quickest ways to get more followers.
You can check out Poshmark's official documentation on the topic, or read below to see what it takes to become a Posh Ambassador 👇
Posh Ambassadors are expected to:
Maintain an active closet-Participate in the Poshmark community
Provide great customer service
Be in good standing with our Community Guidelines and Terms of Service
Posh Ambassador benefits:
Get recommended to new Poshers
Receive an exclusive newsletter
Unlock access to fun programs and opportunities
To qualify, you must meet all of the criteria below:
Community Shares: Share at least 5,000 items from other Poshers' closets
Self-Shares: Share your own items at least 5,000 times to the community
Available Listings: Have at least 50 available listings in your closet
Listings Sold: Make at least 15 sales
Average Rating: Have an average rating of at least 4.5 stars
Average Ship Time: Have an average ship time of less than 3 days
That's a lot of work. Poshmark isn't going to give those followers to just anyone. You've gotta be committed to the platform.
Why does Poshmark Automatically Follow Closets
Poshmark automatically follows closets for users so that when they're just starting out in the app they have a feed filled with relevant items based on their interests and size. They don't just follow any closets, they're following Poshmark ambassadors.
It's useful for Poshmark to automatically follow closets for users because otherwise new users would be greeted by an empty feed and not be enticed to browse through items to shop. Following Poshmark ambassadors helps give new users the best experience in the app, increasing the chance of a good experience buying an item, and increasing the chance they'll come back again to shop.
It's also useful, because if you're a Poshmark ambassador, you'll automatically get new followers almost every day. This helps grow your audience, and it also helps increase your sales because the number of people seeing your items increases.
How many followers do you need on Poshmark to make money
There is no golden rule about the number of followers you need on Poshmark to make money. In fact, the number of followers you have is one of the least important factors in making money on Poshmark. The most important thing is that you become a Poshmark ambassador so you show up higher in search results and other feeds on Poshmark.
But, after reviewing many closets, it's safe to say that having over 30,000 followers on Poshmark will start to give you some traction. 30,000 might seem like a lot, but once you become a Poshmark ambassador you are given followers quite often.
So, do followers matter on Poshmark?
Followers matter because some amount of sales do come from people browsing in the main feed. This is where they will see new items listed from the closets they follow. But, the majority of sales are driven through search and feed discovery. Increasing your following won't hurt your ability to sell on Poshmark, but it's not the main way sales are generated on Poshmark.
Conclusion
That's really it. Just about anything else you do on Poshmark doesn't help you get new followers.
In short, to get followers you need to do something for them and get their attention. Sharing their items, and following them are just about the only way to do that.
Sharing other people's items during a party is the ultimate time to get the most followers.
Also, Poshmark will literally throw followers at you if you're a Posh Ambassador.
I hope this article has helped you! There's some other stuff I want to show you.
Check out this blog post covering 24 tips to make more sales on Poshmark.
Or this one, which covers whether or not the Closet Tools is ethical to use.
If this blog post helps you get more followers, share it with your friends!
Jordan 👊