On June 21, 2021, Poshmark published a blog post on their blog revealing a new feature that allows you to take bulk actions on your items in the Poshmark app.
This means you can share to followers and parties, update prices, and bulk offer to likers right in the Poshmark app.
When this feature first announced, the Poshmark community rejoiced. "Finally! No more tapping all of my items to share them. I'll be able to share them all instantly and make lots of sales."
However, in practice, that's not what happened.
As the feature started rolling out, Poshmark sellers began to realize that this new bulk feature only removed one tap from every action. So now, instead of taping share and then tapping to share to your followers, you tap an item to select it and then "bulk share" the items you selected.
Yes, a 50% decrease in the amount of time spent doing something is a great improvement, but 50% of a really long time is still a really long time.
If you're a seller who has lots of items, this feature doesn't help much. It still takes a long time to share your items, and it still takes time away that you could spend doing other things for your reselling business.
The reality is, Poshmark will never let you share all of your items instantly. Keep reading to understand why.
Poshmark is Social Media
Poshmark is not a selling platform like Amazon, or eBay. It's a social media app with built in selling features.
Because of this, Poshmark is built like a social media platform. You can like posts, comment on posts, list your own posts, etc.
And if you know anything about social media platforms, there's one metric that rules them all: engagement.
Poshmark needs your engagement. They need sellers to be in the app, talking to buyers, sharing your items, contributing to parties, listing your items, etc.
And for good reason! They need that engagement, because that's what creates a "sticky" platform. One that attracts buyers and sellers, and gets them to stick around.
In reality, like other social media platforms, Poshmark is a game. You're exchanging engagement for social interaction that leads to selling your stuff and earning on the platform. This is why there are parties, they literally want every person in the party to be on the app at the same time.
And do you think they want everyone in the app at the same time because it benefits sellers? Of course not. This is how Poshmark drives sales on their platform for their own benefit. If users are using the app, then users are buying and selling on the app. More user engagement, more sales, more profit for Poshmark.
Think about this for a second: what if Poshmark allowed all of your items to be shared automatically? Well, then there'd be no need for any engagement at all. There'd be no reason for sharing at all. Then there would be no difference between it and other selling platforms like Amazon or eBay.
And if there's no engagement, then there's no reason to sell on Poshmark. Therefore, Poshmark will never let you share all of your items with one tap.
Also, if you don't believe me, read their S-1 they filed when they went public. They talk extensively about how engagement is what drives their platform.
Here's a snippet: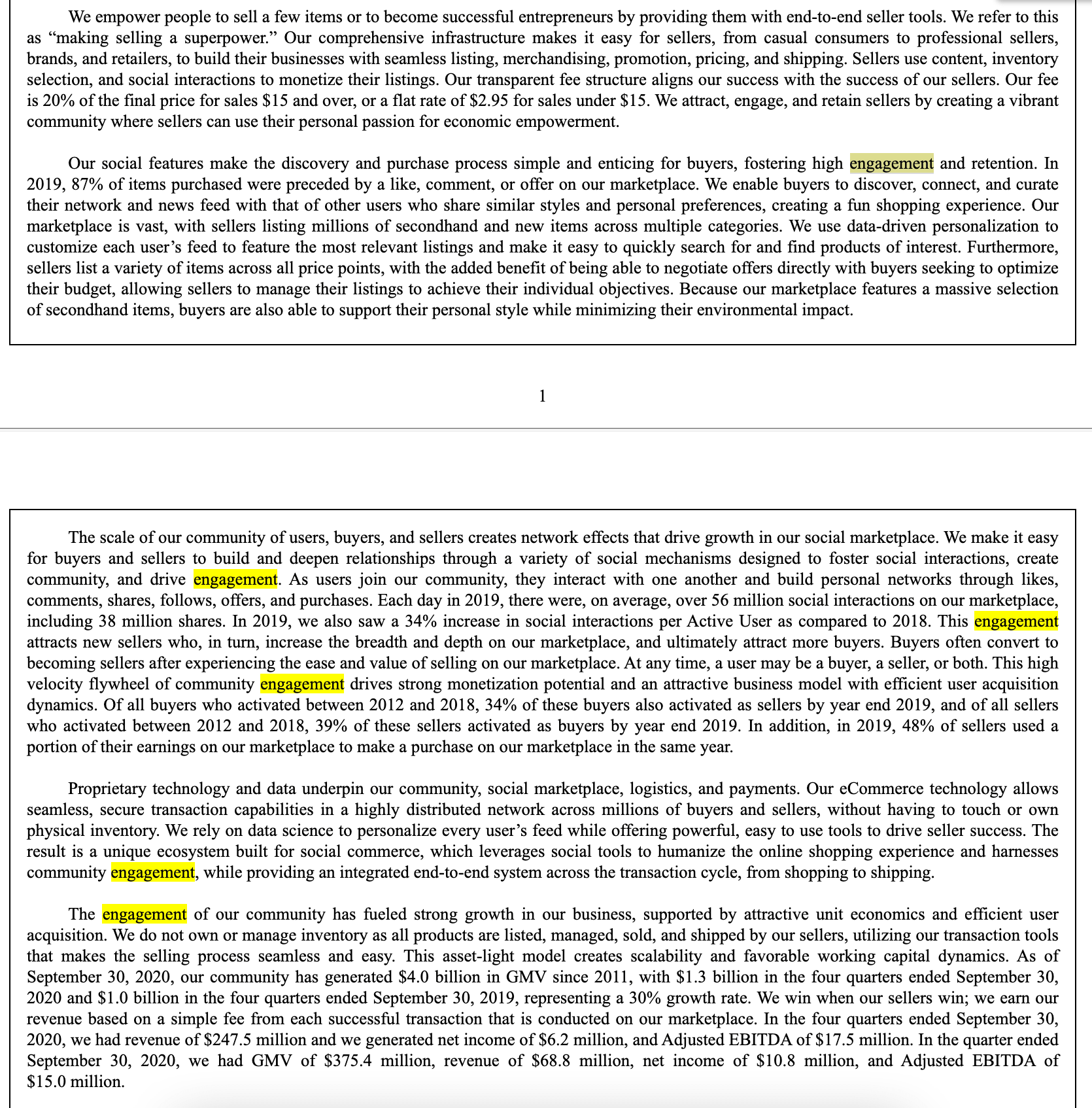 Why would Poshmark add bulk listing features?
Poshmark knows how to keep its customers happy.
They lead sellers down a path where they get hooked quickly by making some sales, and they ultimately trap them into playing the engagement game.
The time it takes to share, offer to likers, and change prices has always been the biggest complaint about Poshmark.
It takes hours every day for sellers with large closets to share all of their items to their followers and parties, as well as dropping prices when it helps drive sales, as well as offering to new likers on items.
Poshmark knows this, and they know other competing platforms are rising up to take the reselling cake.
So what do they do? They make it 50% better. Instead of two taps per item, it's now one tap per item to share them all.
This will most certainly appease a lot of sellers, especially ones who don't have large closets that take hours to share.
However, for power sellers who need time to do other things with their business (like talking to customers, and packaging items, etc.), this doesn't solve the problem at all.
But, because as we talked about above, Poshmark will never let you automatically share all of your items. And so, this is as good as it's going to get. That is, unless you use a sharing bot like Closet Tools.
How to share all of your Poshmark items with one tap
If you couldn't tell, this website is made by Closet Tools, the number one app to bulk share all of your items, offer to likers, and change prices.
Instead of needing to tap on all of your items to select them, you can share them all with one click. Not only that, but you can do it on a computer (which frees up your phone to do other things!).
If you're interested in trying out the app, check out the homepage and install the app. It's been running for over 4 years, across thousands of closets, and not a single user has had their closet banned.
I hope this helped you out, and I hope you keep crushing your sales!