The Current State Of Closet Tools
It's hard to believe that Closet Tools and the Closet Tools launched less than a month ago. It feels like it has been longer, and it has been pretty successful despite limited marketing and distribution surrounding it.
Users of Closet Tools are really making use of it. Here's a few numbers (I don't track very much):
23 Days Since Launch
15 Users
172 Opens Per Day
3522 Total Opens
100 hours saved per user (explained below)
That's incredible. Though I haven't received a ton of feedback from those 15 users, the feedback I have received has been all positive.
Check out this Instagram story from one of the users: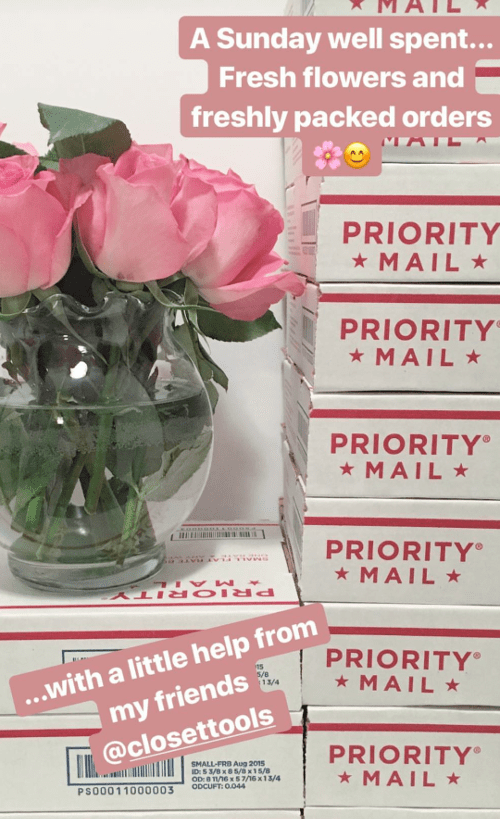 That's a lot of sales for one weekend! Closet Tools certainly turns a seemingly average closet into a supercharged one.
It's incredible to see the tool genuinely help people make more sales and ultimately make more money. It's not just hype and banter. It works, and I want to continue to make it better.
Not only is it generating sales, it's also saving them a ton of time.
There's typically at least 48 items on a page when things are being shared. Assuming the 48 items, and only one round of shares per open (which is unlikely, people use it all day with one open), that's 180096 shares that did not have to be clicked!
Breaking that down even further, across the 15 users, that's 12006 shares per user. Assuming each share takes at least two seconds, that's 100 hours saved per user. Seeing as how there has only been 552 hours since this tool has launched, that's an incredible amount of time saved!
Looking Forward
Content. Content. Content.
There are so many things that I want to do, but I am only one person. I'd love to spend all day making Closet Tools better, generating content, and building other people's closets, but I have a full-time job (at the time of this writing). Closet Tools is my side-gig. Though I still put a lot of time into it, I am limited in what I can do each day.
That being said, here are some of the things I intend on doing:
Making my own closet and using it as a test to see how powerful Closet Tools is. So I'll be buying items and flipping them, just like you do.
Writing a blog post and/or other resources on a weekly basis that highlights the things I learn building my own closet.
Giving you all of my secrets and successes/failures that come along the way.
Making free courses and materials to help people build their own profitable closets.
This is a big step for me. I'm a developer, not a fashion guru. But, I can't accurately tell people how to grow their closets and make more sales if I haven't done it myself.
As far as Closet Tools goes, here are some features I plan on adding:
Daily Share Limit
Start Sharing At ___ [Time]
Desktop CAPTCHA Notifications
Auto-commenting
I don't have a road-map at this time for those features. I'll be starting and building my closet first, and then I'll work on adding features to the tool.
My closet should be up and running in the next week or so. I want to start out my content with a "Zero to Closet" series. What it takes to build a successful closet from nothing.
I'd also like to make it into a 30-day course. Something that people can spend 1 hour a day for 30 days and make a closet that actually generates sales and makes them money.
Look for something to pop up in the next three months. I'll obviously need to build my closet and sell things for at least a month before I can gather data.
Building Something Great
I want Closet Tools to be the single greatest source of Poshmark related content on the internet. I don't think it will take very long to get there, since there's a lot of garbage out there.
What do you think about these plans? What topics would you like to know more about? Do you want to know more about growing your closet? Comment below!
Jordan 👏